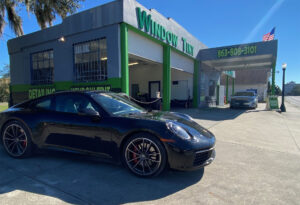 Florida locals know, nothing is worse than feeling your car interior after it has baked under the Florida sun. What if there was a way to find a reprieve from that awful Florida heat? Luckily, there is. Getting your vehicle's windows tinted can not only improve your vehicle's look, but it can also reduce the internal temperature! Window tint applied by a professional can reduce the amount of UV light that is allowed into your vehicle, essentially keeping it cool and giving your A/C a fighting chance. Below is a resource to help you understand everything you need to know about window tinting. For more information or professional, affordable window tinting in Lakeland, give Exotic Car Services a call!
5 Facts About Car Window Tinting in Lakeland Florida
1. What is Window Tint and How Does Window Tint Work?
A method of applying a thin film to the interior of a vehicle's windows is called aftermarket window tinting. Tint services apply a film designed to darken a car's windows. The result is an increase of blocked UV light and a reduced glare from the sun.
Window tint film is manufactured in a variety of materials and shades. Typically, tint shades are measured on their ability to transmit light. This means the darker the tint, the lower the light transmission.
2. Different Tint Types
Carbon Tint, Ceramic Tint, Metallic window tint, Hybrid window tint, and dyed film are all tin options with their own unique properties to consider when deciding on vehicle window tint. You can learn more about each option by giving us a call or checking out our services page.
3. Florida Tinting Laws
For all Florida vehicles, the front side windows must allow more than 28% of light in. However, there are other legislative differences between sedans and SUVs. Specifically, rear (and back side) windows must allow more than 15% and 6% of light in for sedans and SUVs, respectively. If you are interested in applying window tint in Florida, be sure your provider applies tint within these legal parameters.
4. Exemptions to Vehicle Window Tint Laws
Florida has very few circumstances by which one can be exempt from the state requirements. For instance, if a driver has a medical condition that is exacerbated by sunlight exposure, they may apply for a waiver.
5. Punishments for Illegal Window Tint
Florida law enforcement carry devices that can measure the amount of light passing through your windows. If they detect an illegal amount of shade applied to your windows, you can be ticketed and fined for the first infraction.
Answering FAQ's About Tinting Services
How to clean tinted windows?
Always listen to your tint specialists' recommendations on when to begin washing your freshly tinted windows, as climate may affect how soon you can do so. Generally, waiting at least seven days after the tint is applied is necessary. However, depending on the climate, it may be closer to 30 days before the tint film sets.
Always use a squeegee or cotton rag, with the detergent of your choosing. Although, you should not use a cleaner that has ammonia.
Can I roll down tinted windows?
Your newly tinted windows should not be rolled down for at least 4 days after the tint film application. Again, this is to give the film some time to settle.
What are the benefits of getting tinted windows?
If you live in Lakeland Florida, getting your windows tinted has loads of benefits! As a local, you surely know how blistering the Florida sun is. Nothing is worse than feeling your car interior after it has baked under the Florida sun. Tinted windows can help block some of those harmful UV rays and reduce the overall heat of your vehicle. These effects become invaluable during the summer as your A/C is set to maximum regularly.
Choose A Local Window Tint Shop for Best Results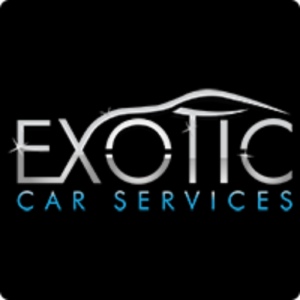 Based in Lakeland, FL, Exotic Car Services is a passionate, charismatic, and driven company with a focus on high-end automotive detailing and window tinting. Our knowledgeable, bilingual team is here to assist you in either English or Spanish.
At Exotic Car Services, you'll always receive great customer care, professional advice based on the most up-to-date industry standards and products, and the know-how that comes from decades of combined experience. You can always count on us to help you make the best out of your ride.
Do you want to continue learning about window tint? Would you like to start your own business or get training to increase your value as an employee? We offer window tinting training at our Window Tinting School.
Call Today for Affordable Vehicle Window Tinting Service in Lakeland Florida!