Professional Lakeland Car Detailing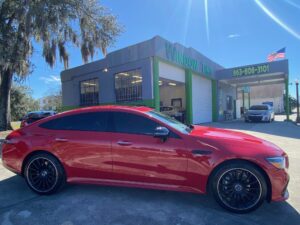 Driving a dirty car can be emotionally taxing and embarrassing. It is understandable, people live busy lives and cannot always set aside the time to clean the exterior, let alone the interior. For such circumstances, there is no need to bother with setting aside the time and energy to clean it yourself. Instead, just leave the vehicle with a professional Lakeland car detailer. A professional can handle the detailing in just a couple hours. Additionally, the car will be detailed efficiently, and the result will be beyond your expectations. Leave your vehicle with the professionals at Exotic Car Services, then return to find it in showroom condition! Trust us to handle your vehicle with care so that we may deliver you an exotic experience and lavish results for an affordable price!
Mobile Detailing vs Shop Detailing in Lakeland
Understandably, mobile detailing is a popular service consumers request. However, there are pros and cons to this choice.
Pros:
Convenient – since the service can come to you.
Quick – generally it is a faster service.
Flexible – mobile detailers can work around your schedule with ease
Cons:
Less Detailed – Without a garage, mobile detailers will not be able to fully inspect and address your vehicle.
Expensive – Detailers must charge more to cover travel cost.
Inadequate supplies – The proper supplies for a full detailing service just cannot be mobilized.
Verdict: We at Exotic Auto Services recommend bringing your car to a location for an adequate detailing job. Although the flexibility of mobile detailers may be appealing, consumers will pay more for a lower quality service. For the best value decision, choose to bring your vehicle to Exotic Auto Service.
Car Detailing Services
Exotic Auto offers car detailing services to fit every budget and desire. Check out our services page for more details or feel free to give us a call at 863-302-9933 for a personalized quote!
Exterior Detailing
Usually, exterior detailing services restore your vehicle's paint and windows to their former glory. Where we differ from other services is in our variety of services. Exotic Car Services offers packages that specialize in exotic and classic cars. We handle antique showroom cars and are familiar with the specific techniques and equipment that necessary to restore them to their luxurious status.
Interior Detailing
As detailing specialists, we also offer interior detailing. Based in Lakeland, we understand how the Florida heat can turn any lost debris into an odorful, sticky mess. Regardless of the make and model, we can thoroughly clean any vehicle's nooks and crannies. You will never be disappointed with the cleanliness and refreshing feel that accompanies returning to your driver seat.
Car Wash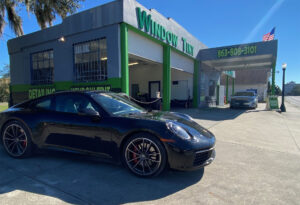 All our exterior detailing packages begin with a hand wash and dry of your vehicle. Any honest detailing company will tell you; handwashing is the gentlest way to address your vehicle. Handwashing requires diligent professionals who are prepared to invest their attention into your satisfaction. Because of this, most detailers cannot provide the service effectively. However, Exotic Auto Service only employs professionals who have refined their craft and have an eye for details.
4 Steps of the Paint Correction Process
As time and Florida sun wear on your car, the paint will inevitably need a correction at some point. Exotic Auto Service utilizes an effective process to deliver you results for any paint correction needs:
Paint is handwashed then dried, while mindfully analyzing paint issues and removing debris.
Detailing clay is used to remove embedded contamination in the paint.
High speed buffing process of one, two or three steps is utilized to gently remove swirl marks, scratches, and defects to restore the clarity of the paint.
Appropriate paint sealant (Carnauba wax or polymer) is applied for protection and shine.
Luxury Detailing Service in Lakeland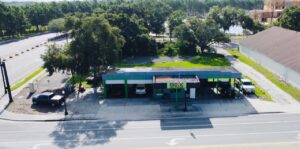 Based in Lakeland, FL, Exotic Car Services is a passionate, charismatic, and driven (no pun intended!) company with a focus on high-end automotive detailing and window tinting. Our knowledgeable, bilingual team is here to assist you in either English or Spanish. At Exotic Car Services, you'll always receive great customer care, professional advice based on the most up-to-date industry standards and products, and the know-how that comes from decades of combined experience.
You can always count on us to help you make the best out of your ride.
Call Today for Interior and Exterior Professional Car Detailing in Lakeland Florida!